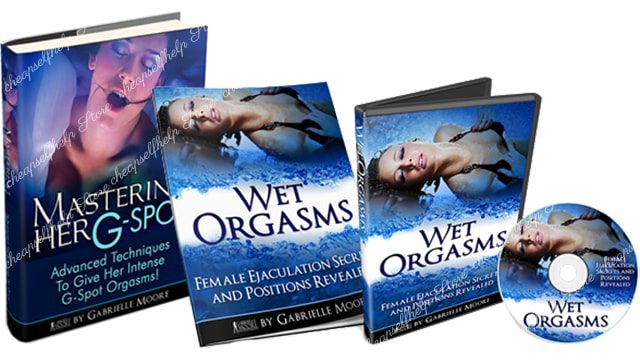 Here's What You're Going To Receive…


1) Mastering Her G-Spot eBook
2) Mastering Her G-Spot Audio
3) Bonus: Wet Orgasms eBook + Audio


Retail Price: $97


Course Description

Advanced Techniques To Give Her Intense G-Spot Orgasms!
"Master The Art Of G-Spot Domination And Mercilessly Pleasure Your Lover's G-Spot In Bed Tonight Until She BEGS You… To Stop!"
If Regular Sex Just Isn't Giving Her Those Orgasms She Craves… Wait Till You Try These Forbidden Techniques To Directly Target Her G-Spot!
My beautifully illustrated course reveals all you need to know about giving her intense, G-spot orgasms!
No more wondering whether you're hitting and stimulating her G-spot correctly each time you have sex. With my techniques, you'll know it when you hit her pleasure spot and see that horny look on her face as you massage it… begging you for more!
BONUS: Gabrielle Moore – Wet Orgasms
Female Ejaculation Secrets and Positions Revealed
Female ejaculation is not just a fantasy! According to scientific research by Darling, Davidson and Conway-Welch, 40% of women already routinely experience wet, squirting orgasms!Why not help your lover be next? It's all possible once you learn:
Why female ejaculations are so rare, and what really happens during an intense female ejaculation!
What can you expect during a liquid, female ejaculation… If you have been curious about what comes during a female ejaculation, learn all about it here!
How you can actually make your lover ejaculate and squirt in bed tonight!
And many more!
Let me take you by hand and show you how to extend your G-spot play into giving your lover those intense, squirting orgasms!
In this special audio book (yes, you actually hear my voice as I take you through the process of giving your lover warm, wet orgasms!)… you'll learn the art of female ejaculation the Gabrielle Moore way!