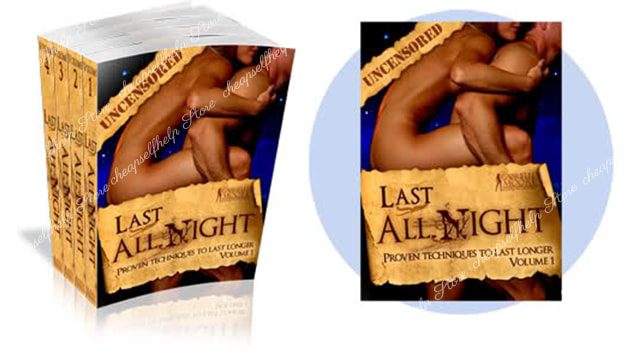 What's Included:
1) Last All Night eBooks
2) Bonus: The Female Ejaculation Mastery
3) Bonus: The Male G-Spot Mystery
4) Bonus: Daring Sexual Positions eBook + Audio
Retail Price: $47
Course Description
"Here's How To Unlock The Secrets To Unlimited Sexual Stamina – And Literally Reach And Sustain A Deliriously Intense, Razor-Sharp State of Sexual Pleasure Beyond Anything You Have Ever Experienced Before…"
LAST ALL NIGHT – Proven Techniques to Last Longer in Bed
Last All Night is a comprehensive program that covers EVERYTHING you need to know to achieve unlimited bedroom endurance.
It provides never-before-revealed sex tips, secret sex techniques, and sex exercises that help develop your mind and body to become a never ending source of sexual pleasure. The e-course is also bursting with sex postures waiting to be tried!
With the Last All Night program, you will banish all the disadvantages and negativity that surrounds inferior performance in bed.
You will experience the pleasures of sex MUCH LONGER than you ever have before. What used to be a couple of minutes of sexual bliss will become hours of carnal enjoyment.
You will have the stamina to see your sex partner through HER climax. No more leaving her in the dust to fend for her own sexual release!
You will be in control of WHEN you 'cum'. From now on, pleasure will not be abruptly ended by sudden spurts and spasms of your 'juice'.
You will experience sex in a whole new light. No more 'routine moves' meticulously calculated to extract a few extra minutes of sexual play.
You will gain self-esteem and confidence that can only come from a man who can really pleasure and 100% satisfy a woman in bed.
You will be able to 'pick up the pieces' and engage in sex over and over and over again. No 'one performance per night only' for you!
You will improve intimacy with your sex partner drastically as you learn and practice Tantric Sex. She will no longer feel that you are 'selfish' in bed because not only are you able to last until she reaches an orgasm, but you will be equipped to make love on various levels (not just lovemaking of the body, but also of the heart, mind, and spirit).
And many more!