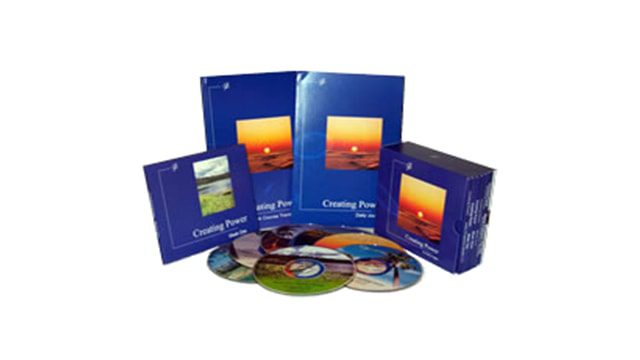 What's Included:
1) 4 CD MP3 with the Main Program
2) Bonus Programs: Creating Confidence, Romance and Success
3) Bonus Programs: Visualization, Meditation, Creating Wealth
Retail Price: $147
Course Description
Your mind plays tricks on you – that's right – it deceives you. It convinces you to stop trying to create change because it's comfortable where you are right now – even if you aren't happy.
Creating Power shows you how to take control of your mind so that it starts working for you — immediately! And you'll rapidly discover when your mind is deceiving and playing tricks on you. And how to reverse its course in minutes.
Creating Power Gives You The Power.
Stop beating yourself up!
There's a shortcut to the life you always wanted. And it begins now!
At last! The Creating Power System that teaches you how to master your own powers so that you can turn to them whenever you want for the rest of your life! Once you work with Creating Power you're set for life!
Here are just some of the incredible things you'll master in the FIRST WEEK:
How to tap into your subconscious to create a happy and rewarding life.
Why most forms of visualization fail and how my simple technique will skyrocket your results.
Learn how to quiet your mind and develop your intuition.
The right way to meditate – it's so easy you'll wonder why you didn't do it your whole life.
How to create the right situation ahead of time – so you always come out ahead.
How to magnetically attract the right people who will help you accomplish all your goals.
How to get rid of the people and situations you don't want – easily and effortlessly without any confrontations.
How to turn failure into success and keep building success throughout your life.
3 simple ways to eradicate negative thinking.
How to build a lifetime bond with your spirit, the universe and your subconscious so you're always on the right track.
The six laws of thought and the universe that no one will tell you – and why you need to follow them right now!
Why any affirmation you picked up in a book or another course is dead wrong! You'll master the Right way to create and use affirmations so you get instant results!
Why simple positive thinking won't get you what you want.
How to send the right thoughts to your subconscious so things always work out for you.
How 5-minutes a day can change your life – forever. Starting right now!
And there's more. Lots more.