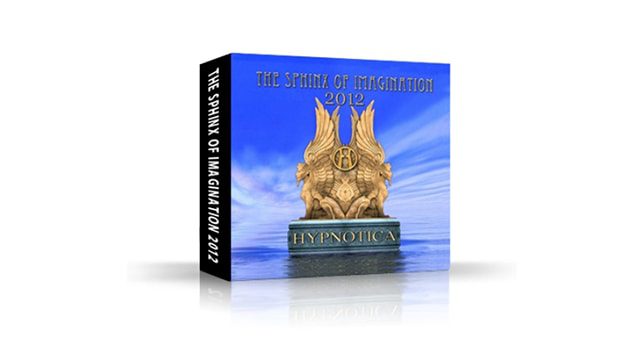 What's Included:
1) The Sphinx of Imagination | MP3 Audio
2) The Sphinx of Imagination | WAV 24bit Audio
Retail Price: $29.97
Course Description
A One-Hour Hypnotic Journey That Has Brought Life-Changing Results To Thousands
When sound sculptors Eric Von Sydow aka Hypnotica and Denver Clay first unveiled the now cult classic, audio odyssey experience, hailed as "The Sphinx of Imagination" almost 10 years ago, it was a CD that was light years ahead of its time. A luscious blend of trance, meditation and hypnosis, The New York Times lauded the composition as "sort of like a Grateful Dead concert without the band or the drugs." Merging fantasy and reality into a surrealistic experiential medium, "The Sphinx of Imagination" was a genre bending, therapeutic immersion that defied logic. As testimony to its compelling allure, it has consistently ranked as the Number One best seller in the New Age category on CDBaby.com, one of the largest online record stores, since its original release in 2003.
So what becomes of a masterpiece? Well with the advent of 2012 and all the anxiety and anticipation that has emerged with it, the composers have enhanced the epic music journey and released "The Sphinx of Imagination 2012." The upgraded release is literally what dreams are made of! A musical laboratory steeped with subsonic symmetry, subliminal audio frequencies, cutting-edge brain entrainment technology and eerily evocative melodies, "The Sphinx" is the farthest you will ever travel between stereo headphones.
SIMPLY STATED, IT IS A MIRACULOUS MIND VOYAGE
"The Sphinx of Imagination" plunges the listener into a vivid world of multi-layered inner-dimensional storytelling narrated by the acclaimed mind scientist Hypnotica with a supporting music score contributed by consummate composer and sonic alchemist Denver Clay. Clay's vast cinematic acoustic effects coupled with the spellbinding resonance of Hypnotica's vocal tones are irresistible delicious in this whimsical adventure.
Painting scenarios riddled with ambiguity and allegory, Hypnotica invokes the spirit of traditional storytelling from the most ancient of times, tapping into an Akashic library of universal references and resources. His mythical stylings recall not only Egyptian imagery, but also Greek mythology, Arthurian legend, Siberian culture, ancient Celtic heroes, Angels and the shamanic figures of African and Native American tribes. He expertly incorporates his knowledge of neurolinguistics, neurosemantics, psycho cybernetics and shamanistic storytelling, culminating an experience that allows for the progressive transformation of the mind, spirit and soul.
THE SPHINX OF IMAGINATION IS WIDELY ACCLAIMED TO BE "THE MOST EPIC HYPNOSIS CD EVER CREATED"
In under an hour, "The Sphinx" whisks you away on an exploration which seemingly spans lifetimes. There are bridges to cross, sacred books that reveal, wizards that guide, magical gardens, heavenly temples and angels that bless. One's imagination is ignited and the realms of creativity are lovingly nurtured via Clay's enchanting soundscapes rich in color, language and dimension. His gentle harps, elegant piano, haunting flute, shimmering chimes and evocative crystal bowls are just a sampling of the aural magic creating visuals so stunning, one can almost reach out and touch them.
Hypnotica, an author, hypnotist and self-evolvement life coach, explains, "You don't just listen to 'The Sphinx of Imagination" you experience it! It is specifically encoded to tap into one's subconscious and weave possibilities that spark a personal journey into the depths of your very being. It is designed to tap and release the incredible beauty and power stored within us all."
Denver Clay, a leading authority on how music, sound and vibrations can be designed and manipulated to deliver and propel profound states of consciousness, adds, "The Sphinx is a mind-blowing ride that you will get lost and found in. 'The Sphinx' is scientifically engineered to provide graduated moments to reach higher states that allow for and provoke profound changes in the mind. Stress, worries and anxieties are vanquished, creating space for empowerment to thrive and grow."
"The Sphinx of Imagination" is … in a word … Awesome … Just Awesome!! Thanks!!" ~ John La Valle, Co-author of "Persuasion Engineering"
"Some CD's … aim to elicit more than a feeling or a body movement from listeners. For the last six years … Hypnotica, and Denver Clay, a keyboardist and composer, have been working on a CD that they say will affect the listener more powerfully than any of these. " ~ Neil Strauss, The New York Times
"A beautiful, metaphorical journey Inside … A once in lifetime masterpiece." ~ Mark Cunningham, Master Hypnotist