Here's What You're Going To Receive…


1) Extreme Foreplay for Sexual Addiction
2) The OMG! Oral Orgasm
3) Extreme Sex God Positions
4) Multiple Squirting Orgasms
5) Addictive Orgasms
6) Bring Out Her Inner Pornstar
7) 15 Minute Orgasm
8) Bonus Seminars & Demos: Simultaneous Orgasm
9) Bonus Seminars & Demos: Erotic Massage
10) Bonus The Instant Stamina Cure Pack: Super Human Stamina
11) Bonus The Instant Stamina Cure Pack: Erection Strength Training
12) Bonus The Instant Stamina Cure Pack: Stamina Trainer 2.0 with Kirsten Price
13) Ultimate Orgasm Club


Retail Price: $97


Course Description

The focus of this course is to teach you the 6 types of female orgasms:
Clitoral
G-spot
Deep spot
Multiple
Squirting
Extended – 15 minutes
It features a variety of top women porn stars, including Asa Akira and Marcus London.
Bonuses include:
Stamina Trainer 2.0: Kirsten Price teaches how to last longer
Erection Strength Training: How Marcus London prepares for erection strength before porn scene
Super Human Stamina: Marcus London's tips on lasting longer. Features Adriana Chechik and Taralynn Foxx
The Simultaneous Orgasm: Marcus London and Kendall Karson explain how to orgasm together at the same time
List of Topics Covered:
The OMG! Oral Orgasm, including oral techniques
The 15-Minute Orgasm, demonstrating the 15 minute extended orgasms
Extreme foreplay for sexual addiction, including Orgasm Confusion techniques
Extreme Sex God Positions, including advanced and extreme sexual positions and features
Addictive Orgasms, with demonstrations on the positions that work best for each type of orgasm
Bring Out Her Inner Porn Star, teaching you how to bring out the dirty psychological side of women
Multiple Squirting Orgasms, with demonstrations on combining squirting and multiple orgasms into one sex session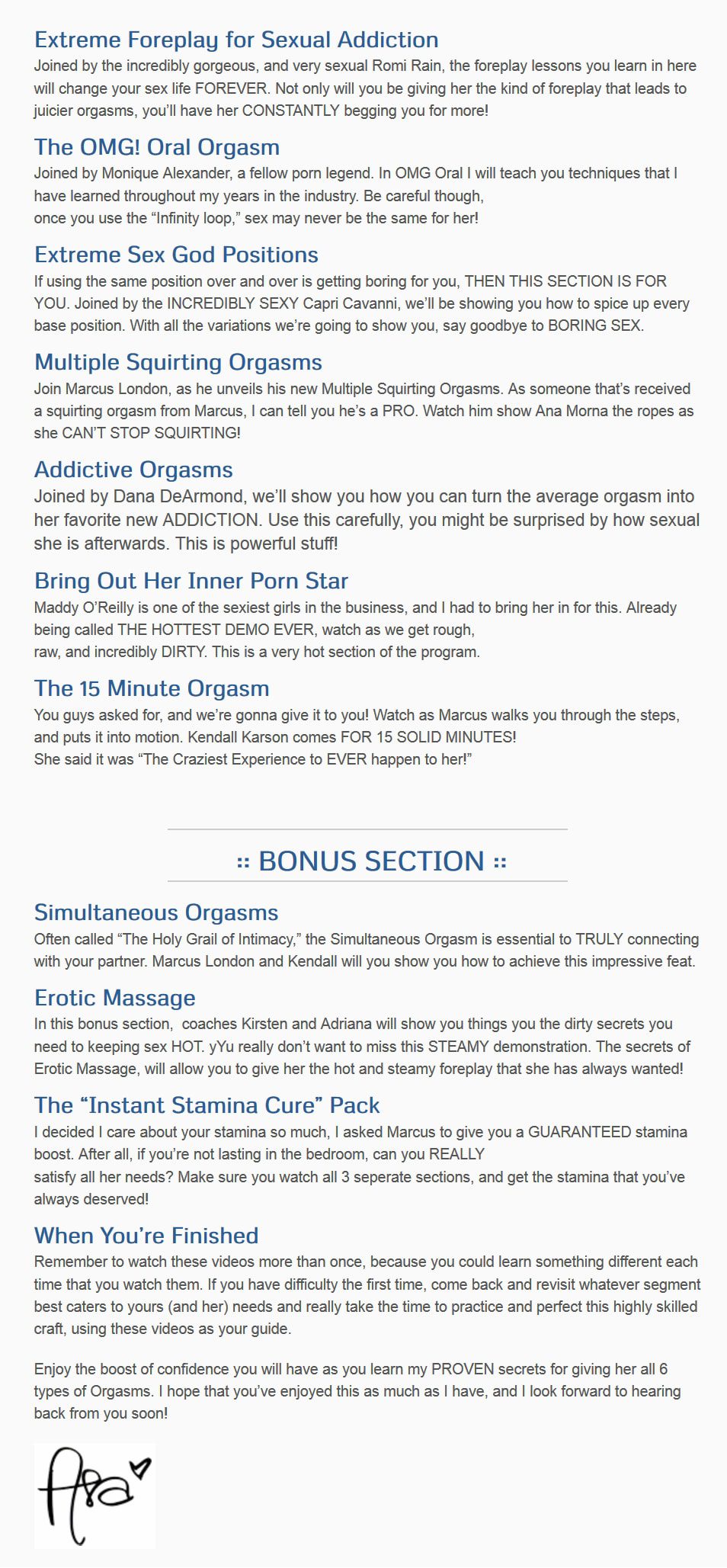 And many more!